20 February 2020 |
Katherine Lethlean
Plenty to celebrate at Fraser Gallop Estate
by Emma Kirk, Busselton-Dunsborough Mail
Fraser Gallop Estate have plenty to celebrate in 2020 - it marks 21 years since the Wilyabrup winery planted its first vineyard and 18 years since their first vintage.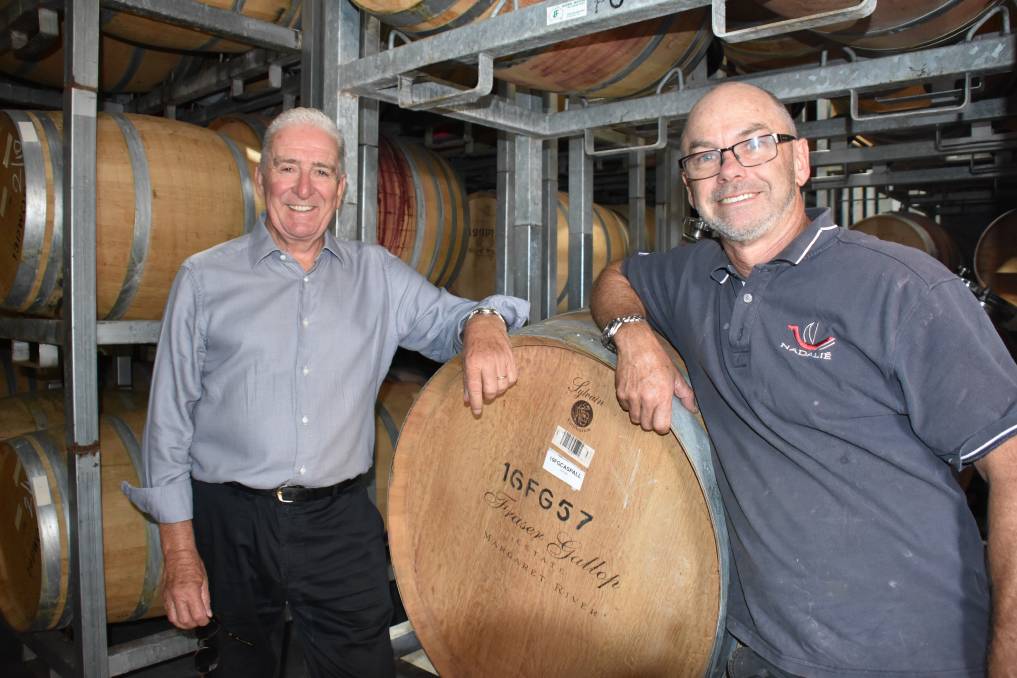 Fraser Gallop Estate Managing Director Nigel Gallop (left) and Winemaker Clive Otto (right)
Owner Nigel Gallop said they were big milestones and he could not believe they were celebrating 21 years.
"To quote Winston Churchill, it is not the end of things and it is not the beginning of things, but it is the end of the beginning," he said.
"It is the end of the first stage of being a major wine producer of Margaret River.
"It has taken 21 years to really establish ourselves with a reputation for wines of great quality and reasonable prices.
"To me that has been achieved to a large extent and it is now the end of that stage and now we are entering into a phase of continual improvement.
"Perhaps not quite as dramatic, it is time for us to really look for the small things where we might improve.
"We have an innovative winemaker who is not afraid to try new things and and an owner, who might get a bit nervous about a few things at times, is happy to let Clive do these things."
Mr Gallop said it was extremely satisfying to reach these milestones and he was certain choices he made 21 years ago were the right choices.
"It has really taken all of this time to prove the choices we made were all good ones," he said.
"The vineyard today and the wines we produce are evidence I picked the right: location; varieties; clones; methods of non-irrigation; cane pruning and all the other things that lead to great quality in wine.
"They are all small but they are incremental, over 21 years we can now see all those things we chose to do are now paying dividends in the wine."
Mr Gallop was formerly in the software industry and spent a lot of time in California's wine region where he became interested in the industry.
"It always appealed to me as a way to live and something that would give great satisfaction, and of course I had always been a very enthusiastic consumer.
"I do not hold myself up to be a great expert of wine at all but I have always been a builder of things.
"When I was in the software industry, the company I had was founded upon code I personally wrote then wound up manufacturing and selling those systems in the US and Australia.
"I have always been someone who likes doing things from the beginning, the wine industry appealed to me from that point of view as well, it was something I could start from scratch.
"For all those reasons when I came back to WA, going to Margaret River and doing all those things was very appealing to me and I certainly have no regrets."
Mr Gallop said one of their greatest milestones was the year they won the Decanter World Wine Awards in 2009.
"It was for our 2007 Cabernet, it was said by Decanter to be the best Cabernet or Bordeaux blend in the world," he said.
"It was the first vintage our winemaker Clive had made here at Fraser Gallop Estate.
"I thought then in 2009 when we one that award, gee maybe this is going to work - where can we go from here? That was a great moment and there have been a lot of other great moments and lunches here."
Fraser Gallop Estate chief winemaker Clive Otto said when he started working at Fraser Gallop it was on a different scale to other wineries where he had worked.
"It was very much hands on and everything was done without any shortcuts," he said.
"At Fraser Gallop there was much more of a focus on quality."
Mr Otto said winning the 2009 Decanter Award was a significant milestone for him, along with winning best red wine at the Margaret River Show.
"We have also introduced new styles of wine that have never been done before in Australia, things which have actually worked out for us, such as the Iced Pressed Chardonnay and the Palladian Cabernet.
"I try to think outside the square and don't follow the herd.
"I especially like wines with elegance, I don't like big, over extracted, concentrated wines.
"I like wines people can drink more than one glass of, I prefer to make a wine people can drink a bottle of, with a meal."
To celebrate the winery's milestones, Fraser Gallop Estate is hosting a sundowner on the terrace of its house from 4.30pm to 7pm on Saturday, February 22.
Tickets to the event are $120 per person and includes Parterre wine, canapes and live jazz music by The Riverbugs, and can be purchased online at frasergallopestate.com.au/product/Parterre-Sundowner-2020.
Mr Gallop said they only opened their home for events a few times a year, which in the past had included Gourmet Escape and a palladian dinner overlooking the gardens.
"It is an uncommon event and quite a unique opportunity for people to enjoy the environment of the house and being on the terrace," he said.