6 January 2018 |
Lizzy Pepper
Jancis Robinson visited the Margaret River region as part of the 2017 Gourmet Escape food and wine festival. She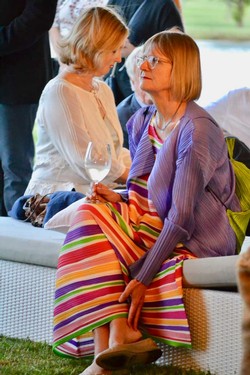 tasted the Parterre and Palladian range in the barrel room, and shared her thoughts on the quality of Fraser Gallop Estate and Margaret River region wines.
This is an extract from her article "A Margaret River Assortment" published on 4 January 2018.
Fraser Gallop
Entrepreneur Nigel Gallop is a major force in Margaret River. He hosted the massive opening party for Gourmet Escape in the grounds of his neo-Palladian villa, so extensive that we all had to be shuttled in from the car parks. The 20-ha estate is located on the highest point in the Wilyabrup subregion (I heard surprisingly little discussion of subregions during my recent visit, perhaps because harmony was the prime aim of these half-century celebrations). This means that, although Fraser Gallop is 7km from the coast, its elevation means it is affected by many an ocean breeze. All vines here are dry-grown. The dominant variety is Cabernet Sauvignon, grown on 9 ha (22 acres), supplemented by other red Bordeaux varieties and 7 ha of Chardonnay.
The extremely dedicated winemaker is Clive Otto, who moved here from Vasse Felix in 2006. He revels in using different sorts of barrels - seven in all, many on rollers for ease of access - for each of the wines he makes. He sells barrels as well as making wine so, as he puts it with a smile, 'I know what everyone else is doing'. He did the 2009 vintage at Domaine de Chevalier and the 2014 one at Pichon Baron and was particularly interesting (to wine students anyway) on comparisons between what is done at this Pauillac Supersecond and what he does for his Parterre Cabernet. Pichon Baron crushes fruit whereas Parterre is whole bunch. At Pichon they start fermentation straight away but for Parterre he imposes a four-day cold soak. At Pichon, innoculation encourages malolactic conversion at much the same time as alcoholic fermentation whereas it takes place afterwards for Parterre. The Pichon fermentation is a bit warmer than Parterre's and Pichon is pressed sequentially to barrel so all barrels are different whereas Parterre's identical barrels are filled from one big tank. Pichon spends 12 months in oak, Parterre 18.
He sees himself as a Cabernet specialist and claims that the new policy of producing three levels of Cab - Estate, Parterre and a new top-of-the-range Palladian - was inspired by the strict selection at Pichon. But note from my tasting notes that the most basic level, Estate, is made in very much smaller quantity than the Parterre.
Fraser Gallop, Parterre Semillon/Sauvignon Blanc 2010 Margaret River
Second vintage. 60% new oak. Bright gold. Mellow and lightly pungent, slightly sweet. Very charming. Still going strong. Long. Rich at first and then super-tangy. Chewy end. Drink 2015-2023
17
Sold out, available at the Pop Up Barrel Room event 2-3 June 2018
Fraser Gallop, Parterre Semillon/Sauvignon Blanc 2013 Margaret River
Usually about 70% Sémillon. Sweet start and very mellow. Lots of acidity. Tight but spicy and satisfying. Throbs a bit. Drink 2017-2023
17
Sold out, available at the Pop Up Barrel Room event 2-3 June 2018
Fraser Gallop, Parterre Semillon/Sauvignon Blanc 2016 Margaret River
Their least profitable wine in view of the oak use. They persist because Margaret River needs to be known for this style. Mid gold. Lightly floral. I could almost take this for a Grosses Gewächs Riesling! Great composition. Lovely already. Drink 2017-2025
17.5
Sold out, available at the Pop Up Barrel Room event 2-3 June 2018
Fraser Gallop, Parterre Chardonnay 2006 Margaret River
Finished, not made, by Clive. Made at Bruce Duke's contract facility. They used lots of (70%) new oak. Big, round and sweet. Sweet and far from the most refreshing. Bit astringent on the end. Drink 2009-2016
16
Sold out
Fraser Gallop, Parterre Chardonnay 2011 Margaret River
Now 30% new oak, picking earlier and wild fermentation. 50% large-format oak, backing off on toast. Not much malo for any of Clive Otto's whites. They're not big on lees stirring. Light quinine finish. Lots of acidity. Drink 2016-2022
16.5
Sold out
Fraser Gallop, Parterre Chardonnay 2013 Margaret River
Butterscotch nose and then lovely tightness and freshness. Green vegy and tightens up on the finish. Salty finish. Long and fresh. Drink 2017-2023
17
Sold out, you may see this vintage at future wine dinners
Fraser Gallop, Parterre Chardonnay 2016 Margaret River
Floral and bright. Big and round. Bony and explosive. Worth comparing it with a burgundy grand cru? I also tasted it at the '50 years of Margaret River' tasting where it looked very good too. Drink 2018-2025
17.5
This is the current vintage, available to purchase online and at cellar door
Fraser Gallop, Parterre Cabernet Sauvignon 2008 Margaret River
85% Cabernet Sauvignon plus Cabernet Franc, Merlot, Petit Verdot and Malbec. Some left on skins for as long as 40 days. Very dark crimson. Nicely developed. Lots of fruit sweetness in youth and then dry finish. Crisp and brisk. Real energy here. Drink 2012-2020
17
Sold out, available at the Pop Up Barrel Room event 2-3 June 2018
Fraser Gallop, Parterre Cabernet Sauvignon 2010 Margaret River
Round but not as fresh as the 2008. Round and deep. Drying tannins on the end. A little jagged at the moment. Drink 2017-2027
16.5
Sold out, available at the Pop Up Barrel Room event 2-3 June 2018
Fraser Gallop, Parterre Cabernet Sauvignon 2013 Margaret River
A warmer vintage than 2014 and a smaller crop. Deep crimson. Nice subtle nose with a hint of iodine. Racy and lifted. Lovely blend of ripe fruit and dry tannins. Drink 2018-2028
17.5
Sold out, this may be served at future wine dinners
Fraser Gallop, Parterre Cabernet Sauvignon 2014 Margaret River
Less concentrated than the 2013. Round and fruity. A bit inky. Pretty dry end. Not very graceful at the moment. Needs time. Drink 2020-2030
16.5+
This is the current vintage, available to purchase online and at cellar door
Fraser Gallop Cabernet Sauvignon 2015 Margaret River
First vintage of a new line, less expensive than Parterre and modeled on techniques Clive Otto observed when working the 2014 vintage at Ch Pichon Baron. Vines planted 1998 and 1999. 160 cases. Quite green Cabernet fruit picked in mid March. Then sweet and round and fresh on the palate. Mid intensity. Drink 2017-2021
16
Sold out, 2016 vintage will be released soon
Fraser Gallop, Parterre Cabernet Sauvignon 2015 Margaret River
To be released in 2018. 2,300 cases. Looks a little more mature at the rim than the Estate 2015. Intense and glossy. Riper. But fresh and vibrant on the end. Drink 2017-2026
17
Due for release late 2018
Fraser Gallop, Palladian Cabernet Sauvignon 2015 Margaret River
100% new oak. 160 cases. Subtle, layered, deep ruby. Tight and youthful and shows what Clive Otto can do. Drink 2020-2030
17+
Due for release late 2018
Palladian Chardonnay 2017 Margaret River
This will be the debut vintage. 100% 500-litre puncheons. Will be bottled in three weeks. Big and rich and gorgeous with masses of acidity. Exotically floral. Drink 2019-27
18
Due for release late 2018