15 November 2023 | Katherine Lethlean
Fraser Gallop Estate shines at James Suckling Great Wines of the World in Hong Kong

At the recent Great Wines of the World Grand Tasting 2023, James Suckling declared "The latest wines from Australia's Fraser Gallop Estate were this week's highlights of our tastings in Hong Kong." where 1,200 trade and consumers gathered to taste more than 240 wines from 13 countries around the globe.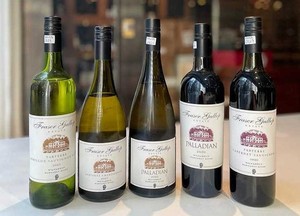 The Fraser Gallop Estate line up at the Great Wines of the World
"We were most impressed by the Fraser Gallop Estate Chardonnay Margaret River Palladian 2022, a selection of their best rows. It's full of complexity, from baked apples to toasted brioche and salted caramel aromas, full-bodied but with the region's distinct bright acidity.
The Fraser Gallop Estate Cabernet Sauvignon Margaret River Palladian 2020 also shined with its fragrance and elegance."
- Stuart Pigott, Ned Goodwin MW and Claire Nesbitt contributed reporting.
This is not the first time jamessuckling.com has been impressed by Fraser Gallop Estate's chardonnay and cabernet wines. In 2020 and 2019 the publication also recognised the excellence our wines awarding them scores in the mid to high 90s.
At that time vigneron Nigel Gallop predicted the judges would be even more taken with the 2020 releases stating: "This is Fraser Gallop Estate's 21st year of operation and we have just completed our 18th vintage. If Nick Stock and Jamessuckling.com are so impressed by these soon-to-be-released vintages I can't wait to see how they respond to the 2020 vintage when it is released. The quality of the harvest has been outstanding."
Commenting on the results today, Nigel said, "Twenty five years ago when the first vines were planted, we had a vision for Fraser Gallop Estate to be known and respected for making Australia's best cabernet and chardonnay. Recognition like this takes us one step closer to realising that ambition. It's gratifying to literally be tasting the fruits of our labours and being rewarded with such wonderful wines."

Palladian Chardonnay 2022 – 96 points
So much going on here, from hazelnuts, lemon curd, salted caramel and baked apples to toasted brioche on the nose. It's full-bodied, buttery and delicious, with lively, bright acidity. Intense. I like the salty caramel undertones on the long and sophisticated finish. Not yet released.
Palladian Cabernet Sauvignon 2020 – 95 points
Fragrant nose of cedar, mulberries, cherries, blueberries, vanilla and mint leaves. Medium- to full-bodied and well-framed, with tight-knit tannins giving it a firm and focused backbone behind the dark berry fruit. Composed and elegant.
Parterre Cabernet Sauvignon 2020 – 94 points
Beautifully fragrant red showing aromas of currants, plums, wild cherries, chocolate, hazelnuts and rosemary. Soft and creamy, with polished, very fine tannins and a medium to full body. Long and elegant. Not yet released.

Parterre Chardonnay 2022 - 94 points
This is an elegant chardonnay with layers of roasted almonds, white sesame, apricots, pie crust and peach pits. Full-bodied, nutty and delicious, with a fresh minerality and a creamy and seamless finish.
Parterre Semillon Sauvignon Blanc 2022 – 95 points
A bright, gently flinty and nutty white showing complex notes of flint, grapefruit, hazelnuts and lemongrass on the nose. Medium-bodied, compact and full of flavor and tension. Not yet released.