25 November 2019 |
Lizzy Pepper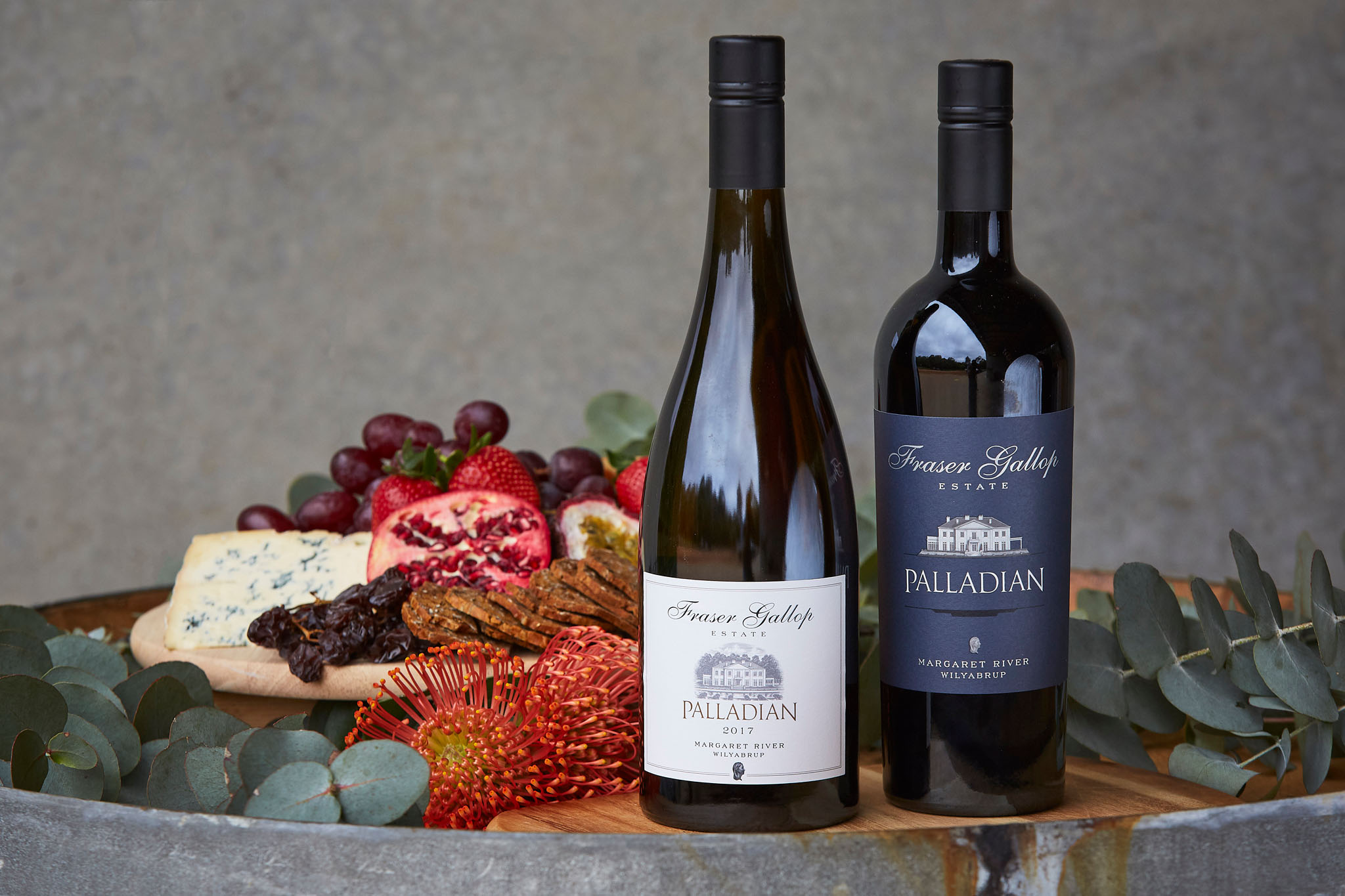 Palladian is the purest expression of place, and the result of our absolute focus on quality. Over twenty years we've learnt exactly which vineyard rows produce the finest grapes, and these are handpicked for the Palladian wines.
For five years Clive Otto made just three barrels of Palladian Cabernet Sauvignon, and in 2017 he began crafting the first ever Palladian Chardonnay. Both the Chardonnay and Cabernet Sauvignon are wild (natural) yeast fermented in small batches.
Fantastic reviews for the 2018 Palladian Chardonnay and 2016 Palladian Cabernet Sauvignon are rolling in. Both debuted at the recent Gourmet Escape with a fantastic response from critics, chefs and our loyal clientele.
Palladian Chardonnay​ 2018
"A textbook chardonnay of great class" 96 points, Huon Hooke
Released in November 2019 and following the highly acclaimed inaugural vintage, the 2018 Palladian Chardonnay comes from select rows of our very best low yielding Gin Gin vines. The juice is run cloudy into a mixture of puncheons and barriques, and only 1000 litres is made.
Gary Walsh of Winefront praised its intensity;
"Intensity. Focus. Length. I could likely stop the review there, though I'll add a green apple sorbet, juicy lemon and lime, a cashew richness and gloss to mitigate, flinty/chalky texture, a certain citrus zest, grapefruit and green melon through the finish, plus a dash of cinnamon spice and toast. Perhaps slightly more generous than the 2017, and none the worse for that." 96 points - Gary Walsh
Gourmet Traveller WINE awarded it 96 points;
"The restrained bouquet recalls almonds and cashews, and there is sweet juicy lemon flavour in abundance. The structure is tight, intense and focused, with impressive length and refinement. It's lovely now and would take some age well."
"Very light-yellow hue. Restrained and faintly nutty aromas recalling almond and cashew. There is juicy sweet lemon flavor in spadesful, tight and intense and focused, with impressive length and at the same time terrific refinement. An excellent wine. A textbook chardonnay of great class." - Huon Hooke, 96 points
"Another delightful Margaret River chardonnay. This one reveals freshly squeezed lemons, acacia, chamomile and Granny Smith apples with the faintest touch of spices. The acidity is very, very intense, so beware, but if you can hold on for the ride, it's a real roller-coaster, as tons of citrus and herbs seep through." - James Suckling, 94 points
Palladian Cabernet Sauvignon 2016
"A very attractive wine with a future" - Huon Hooke
The Cabernet is fermented in new 500 litre vinification puncheons as whole berries. The 2015 vintage won Gold and was rated 97 points by James Halliday. We eagerly await Halliday's review of the 2016 after the praise he gave it at the Gourmet Escape Long Lunch event. In the meantime, excellent reviews are coming in from leading wine writers in Australia and internationally.
"Dried red berries, plums, herbs and blackcurrants. Quite hearty but complex on the full-bodied palate, where vibrant layers of soft red fruit intermingle with spicy acidity. Very fruity on the finish, but this also shows concentration and serious depth. Drink in 2021." - James Suckling, 94 points
"Fraser Gallop's flagship 2016 Palladian Cabernet Sauvignon is an excellent wine and, unfortunately for consumers, priced accordingly. Layers of classy French oak are seamlessly integrated with smooth berry fruit in this medium to full-bodied offering from the Wilyabrup subregion. The tannins are smooth and silky, harnessing the ripeness of the fruit into a streamlined shape on the palate and lingering on the long, mouthwatering finish. It should drink well for at least a decade." - Joe Czerwinski, 93 points
"Deepish red colour with purple tints and a strongly oaky bouquet. Dark chocolate and mocha. It's full-bodied and rich with density, flesh and grip. Violets and blue fruits as well. There is soft but pervasive tannin balanced by concentrated sweet fruit and fleshy texture. A very attractive wine with a future. Oak is a tad dominant at this time, but is not out of balance." Huon Hooke, 93 points
The World of Fine Wine
Finally, Ken Gargett raved about our Palladian wines after visiting the winery for a barrel tasting. The following excerpt comes from his article How The West was won (and keeps winning) in The World of Fine Wine magazine.
"When it comes to Fraser Gallop, one of the matters that always arises for discussion is value. Not that it makes Nigel Gallop happy—he'd rather just focus on quality. It is not easy to escape, though, when you have a series of cracking wines drinking well above their prices. In deference to Nigel, we will not mention value again.
"Winemaker Clive Otto has been there since 2006, after a long stint with Vasse Felix, beginning in 1989. The range encompasses Estate wines, Parterre, and finally a series called Palladian, which will sit at the top (and finally be priced somewhere near what the wines deserve). I was blown away by the quality of the 2017 Palladian Chardonnay, but the 2015 Palladian Cabernet Sauvignon (A$110) might be even better (and a barrel tasting of the 2018 suggests it will be among the greatest wines this region has ever made). It was cold-soaked for ten days at 46°F (8°C), fermented with 100 percent indigenous yeast, and spent 40 days on skins. Aromas and flavors roam through spices, tobacco leaves, coffee grinds, truffley notes, cherries, blueberries, and dried herbs; beautifully balanced, supple and seamless, with at least 20 years of joy ahead of it. Bended-knee stuff (98)."