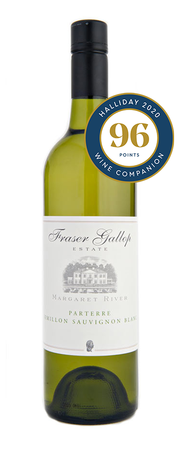 Parterre Semillon Sauvignon Blanc 2018
The inspiration to make this "Graves" style of wine comes from Pessac-Leognan in Bordeaux. An often-misinterpreted style of wine and one that is often overlooked for the Chardonnay, but has the genetics to far outlast Chardonnay in the aging stakes with its zippy acidity and predominance of Semillon. These styles of Semillon Sauvignon Blancs offer far more complexity and interest and make better food wines than the usual stainless steel tank fermented SSB blends. This style takes Semillon Sauvignon Blanc wines to a higher plane usually reserved for fine barrel fermented Chardonnays and are well worth hunting down.
Reviews and Awards
"This is a cracking wine, which will be even better in a year or so. The bouquet currently shows fresh snow-pea fruit and nutty, lightly toasty barrel-fermented nuances. It tastes youthful and tight, clean and crisp with a dry finish. Good concentration. It's excellent now and promises more for the future. (Screwcap)"
Huon Hooke, The Real Review 2019, 95 points
---
"A 54/46% blend, the juices chilled pre wild fermentation, the wine held in a cool room at 12 degrees C for 10 months. The bouquet is layered and complex, the palate pushing flavours at kinetic speeds, taking hold of the mouth in an instant."
James Halliday, 2020 Wine Companion, 96 points
---
"Fresh, grilled asparagus and sliced lemons with hints of kiwis, following through to a full body. Bright acidity and a crisp finish."
James Suckling, 91 points
---
"The bouquet has snow-pea fruit and nutty, toasty notes from oak. It's tight and youthful, a little closed, but light and dry, crisply clean and balanced, with good concentration. The finish is lip-smacking with refreshing acidity."
Gourmet Traveler, August/September 2019 issue , 95 points
Wine Specs
Varietal
Semillon Sauvignon Blanc
Vineyard Designation
Fraser Gallop Estate
Bottling Date
December 2018