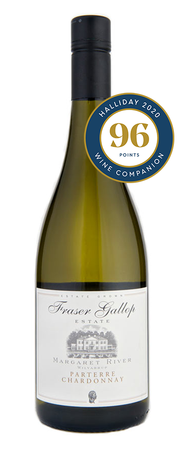 Parterre Chardonnay 2018
An understated wine with flesh and drive. It is a fruit driven Chardonnay with predominantly citrus on the palate with clean acid to bite and a freshly grated ginger spice note. There is a lovely understated creaminess from the lightly toasted oak and yeast lees. The wine stays around for a minute long finish.
Reviews and Awards
"In a great year for Chardonnay in our competition, this Western Australian example stood out for its sheer assurance and class, as well as for the intelligence of its approach: perfectly judged ripeness and skilful vinification are both amply in evidence here. We've always known that Margaret River can make great Chardonnay: here's yet more proof in a balanced, contemporary style which sings."
Decanter World Wine Awards 2020 BEST IN SHOW - 97 points
"Pale green-gold in colour, with aromas of serene classicism: wafting early-season orchard fruits and just a little creamy summer stonefruit too.
Tapered, refined, enticing.
On the palate, the wine is soft yet poised; it has great innate flavour complexity without any sense of strain, labour or effort: a deft and seamless mouthful which nonetheless impresses by its finishing complexity."
Decanter, September 22, 2020
---
"Hand-picked, chilled, whole-bunch pressed, the juice settled, gravity flow to French puncheons (30% new) for wild fermentation and 9 months maturation in a cool room below 20 ̊C. A fresh fruit-driven bouquet introduces a palate that flows without interruption to the finish and aftertaste."
James Haliday, 96 points
---
"Very light-yellow hue with a shy, restrained, faintly nutty aroma, which seems a little muffled or unready. The palate is intense and fine, restrained and a tad unready. It's still emerging but has intensity and very attractive flavour. Long, lingering finish with frisky acidity and real tension. A ripping chardonnay and great value at the price. "
Huon Hooke, 95 points
---
"Lots of praline and cooked-apple aromas and flavors, as well as citrus and lemon-grass undertones. Full- bodied, vivid and lively. Goes on and on. Drink now. Screw cap"
James Suckling, 93 points
---
"The wine is shy, restrained and a little closed, but shows much to get excited about. The aromas are nutty and the palate intense and refined, the flavours long and highly appealing, with fresh acidity. It finishes with tension and leaves the mouth refreshed."
Gourmet Traveler, August/September 2019 issue, 95 points
---
"Not sure what the general consensus is, but to me, 2018 looks very good for Chardonnay in Margaret River. Dried pear and citrus with a coverlet of spice and nougat. Medium-bodied, so even and fluid, delivering ripe lime and melon flavour with quiet authority, oak layered in neatly, fresh and flinty, tight and juicy on a long finish. Hits the sweet spot all right."
Gary Walsh, The Wine Front, 95 points
Decanter World Wine Awards 2020 BEST IN SHOW
Wine Specs
Vineyard Designation
Fraser Gallop Estate
Harvest Date
11th February -14th February 2018
Bottling Date
December 2018